Justice and Soul Offers Hope in Cambodia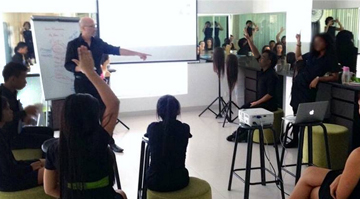 When Matthew Fairfax sets his mind to something, he doesn't just get it done—he hits it out of the park.
The owner of the James Alan Salon in Seattle, Washington, planned to raise $100,000 for a salon and training school in Cambodia for trafficked survivors; he raised $120,000. He intended to open the Kate Korpi Salon and Training Academy in September 2014; he opened it two months earlier. His current dream is to have five more facilities within the next 10 years. Chances are he'll have created his own heartwarming version of a Kate Korpi empire before the end of the decade.
Fairfax's motto is, "If it's not fun, don't do it." His success story is a testament to that notion.
It all began in 2008 when a James Alan stylist described the work her client was doing in Cambodia and suggested Fairfax have coffee with her. He was hooked. In 2009, he and stylist Lauren "Kate" Ebright booked a flight to Cambodia, and he says, "After 10 days of meetings, visiting with survivors of sex trafficking and pushing through the culture shock of third-world poverty, our plan to change the world one life at a time had begun."
After launching the Justice and Soul Organization, Fairfax moved to Phnom Penh, Cambodia, full-time in 2013. Three months after arriving, he had secured a space in the city's newly built 18-story Sun City building. Construction started in May, and within three months, the buildout was complete. On July 28, 2014, the glass doors to Kate Korpi swung open, and in November, the grand-opening party featured models, music and champagne around the building's rooftop pool. But behind the glitz and celebration were many years of fundraising, research, soul-searching and hard work.
The industry has been generous in supporting Fairfax's vision. Through a crowdsourcing campaign, he raised $50,000; the Paul Mitchell Andrew Gomez Dream Foundation donated $25,000; and the first Fashion SOULstice, Justice and Soul's signature annual fundraiser in Seattle, raised $45,000. The most recent Fashion SOULstice was March 19, 2016.
Fairfax brought four Cambodian students on board. Two left. He took on four more in September 2015. They are all flourishing. His aim is to have 10 students, a handful of stylists (there are two full-time now) and a steady flow of volunteers, or guest artists, as he describe them. 
"What keeps us going is having guest artists," he says. "The first year, we had 12 people volunteering their time here. This year, it's a bit more challenging to recruit volunteers."
Today, Fairfax welcomes customers into his gleaming sixth floor office at Kate Korpi Salon and Academy, impeccably dressed in black shirt and trousers. Inside the salon, six young Cambodian students, also outfitted in black, hold hairdryers, create updos and attentively observe every movement made by the full-time stylists.
"I am in awe of what has happened," Farifax says. "I think I went from disbelief to extreme amazement and awe at all the people coming together in a four-year period."
Since the academy's opening, various salons, manufacturers and distributors in the U.S. have been sources of support. Some provided volunteers, some held fundraisers, some provided cash and products, and others provided support through publicizing the good work being done in Cambodia.
One of the first salons to step up was Red 7 Salon in Chicago. After reading about Fairfax and his vision in a SALON TODAY article published in 2012, salon owner Jason Hall jumped in with both feet.
Not only did he contact Fairfax immediately, he also introduced the idea to his stylists and had mirror talkers, fundraisers, email and social media posts letting customers know about Justice and Soul's work in Phnom Penh. One of his stylists, Timea Katona, who volunteered her services for eight weeks, fell in love with Cambodia and later moved there to fill the full-time position as senior stylist/lead educator of Kate Korpi.
"We were honored to be involved," Hall says. "I was fairly shocked, and still am, that more salons are not involved, as it's a great cause and a great opportunity to expand our world.
"When Timea first went to Cambodia, I was apprehensive, of course, but through research and many conversations with Matthew, it felt like the right time in her career for her to step outside her comfort zone. I was proud that our salon was a part of such an amazing experience and thrilled for Timea."
Another supporter, Dalbe Markman, owner of AOC Salon in Norfolk, Virginia, volunteered in Phnom Penh and also raffled off a basket of products at her salon to help other stylists raise funds to go to Cambodia.
"This experience changed my life and the way I look at all the opportunities I'm given here in America," Markman says. "Because of my time there, I cherish it so much more."
According to Fairfax, more than 25 salons in the U.S. have provided assistance. Some did cut-a-thons, some held fundraisers and others provided volunteers. The overall goal for Justice and Soul is to create a sustainable non-profit that is not dependent on donors after the first three years, as well as creating a scholarship program in the U.S. to support trafficked teens.
In alignment with the business plan, Kate Korpi Salon and Academy now offers microzone treatments with a trained Dermalogica skincare expert in addition to manicures, haircuts, color treatments and blowouts. In April 2016, a certified Brazilian Blowout educator will be lending her expertise to the salon.
Kate Korpi stylists and students have provided hair and makeup services for a weekly Khmer TV drama as well as worked on magazine shoots and runway fashion shows and sponsored local events such as SWA Ultimate Frisbee for Khmer youth.
"I've never worked so hard in my life and never felt more proud than in the past 15 years," Fairfax says. "I have two amazing teams—both here and back home in Seattle—and none of this would have been possible without them.
"What's really special is that all of a sudden, I realized our students in Cambodia were truly changed. Now they have vocational skills, business skills, a sense of belonging, hope and laughter." 
How you can help:
The Justice and Soul Foundation constantly needs advocates and fundraising support. It needs dedicated stylists ready to volunteer for a minimum of three weeks to help educate and build confidence in the Cambodian students and to provide services to clients. Living expenses are low (approx. $400 monthly for rent in a location recommended by the team) and a stipend will be paid for volunteers staying longer than three months.
To find out more about supporting the cause, visit justiceandsoul.org.
from Salon Today