Seattle Salon Raises Funds for Justice and Soul Foundation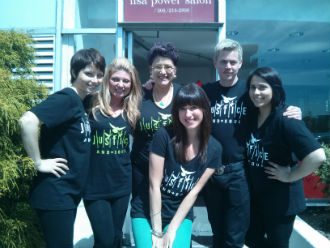 The Lisa Power Salon in Seattle, Washington, recently hosted a one-day fundraising event in June to benefit the Justice and Soul Foundation, the non-profit organization focused on reducing human trafficking while providing cosmetology training to survivors. The event raised $3,000.
Lisa Power Salon team members donated all service and retail sales proceeds to the Justice and Soul Foundation during the event, while educating clients as to the important work of the organization. Fundraisers over the past five years have raised more than $25,000 for breast cancer research.
"Each year the team at Lisa Power Salon hosts a fundraiser, and this year we felt compelled to partner with the Justice and Soul Foundation," says owner Lisa Power. "The organization's founder Matthew Fairfax owns a prominent salon in the Seattle area, and started it with the focused goal of building awareness and working toward elimination of sexual exploitation of young women and children globally as well as the restoration of the survivors. This is accomplished by training survivors in the beauty industry so that they can build a sustainable career and help other survivors. This fund-raiser was one way to support this important effort that has the power to positively affect so many."
Fairfax has recently moved to Cambodia to continue the efforts of the organization, including the establishment of a school to teach the fundamentals of cosmetology as a means to develop financial independence for the students. The organization will employ qualified therapists to address the trauma experienced by the victims, while assisting survivors with necessary transitions.
Lisa Power Salon has been featured in Allure magazine four times since October of 2009, and has twice captured the coveted "Best Hair Color in Seattle" award by the magazine. Additionally, in December of 2010, Lisa Power Salon received Seattle Magazine's "Best of the Decade" designation in the beauty category. Lisa Power Salon also won the "Best of Western Washington" contest in 2009 in the "Best Hair Color" category. Power has been highlighted in numerous trade and consumer articles and more recently featured twice in Seattle Magazine as the "Best Place to Go Red."
Lisa Power has been in the hair industry since 1986 and opened Lisa Power Salon in July 2006. Education has always been a top priority for Lisa as she has spent most of her career training stylists and educators around the world. She spent six years as the lead educator for ICON International, was the creative lead at her previous salon, and was a 13-year member of the Sebastian Artistic Team.
from Salon Today